Regular price
£99.95
Sale price
£39.95
Unit price
per
Sale
Sold out
**Please note this product has a short expiry date and should be used by the end of Jan 2024. Excluded from all promotions**
Our CBD Plus Oil Drops now available as a multi-buy option with 5 bottles of cannabinoid-rich, full spectrum hemp oil containing all the goodness of the hemp plant with 250mg CBD per 10ml bottle. Produced using an artisanal, cold-pressed extraction method, our CBD Plus Oil contains a multitude of naturally occurring compounds found in the hemp plant including major and minor cannabinoids, terpenes, flavonoids and essential fatty acids such as omega-3 & 6 which support brain function, heart health and general wellbeing.
View full details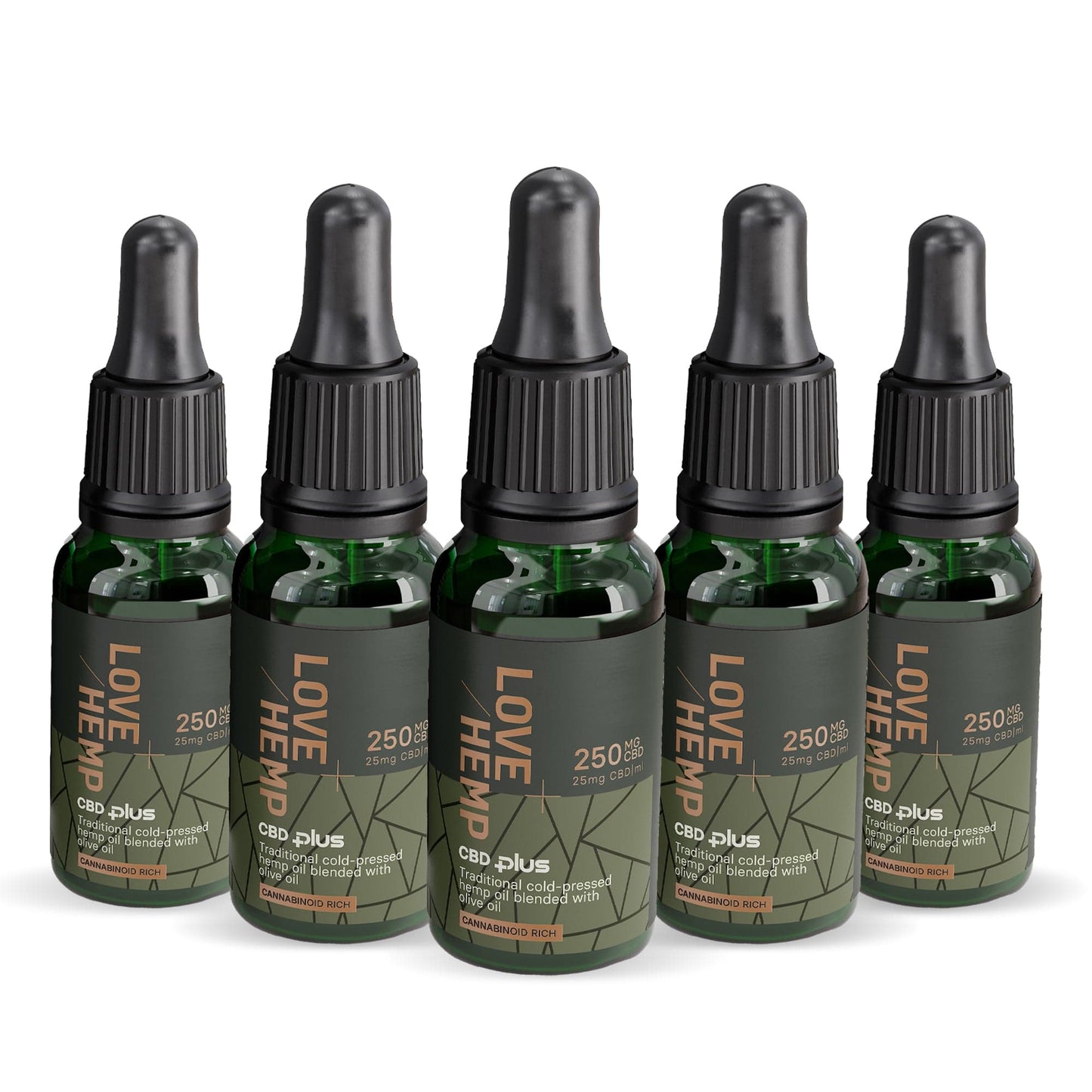 Gold Standard CBD

Plant Based Ingredients

Third Party Lab Tested

5 Star Reviews
Why Choose Love Hemp CBD Oil?

Plant Based

Powered by plants, Love Hemp CBD Plus Oil contains no hidden ingredients and is suitable for vegans.

Full Spectrum

Love Hemp CBD Plus Oil provides a near identical balance of cannabinoids to the raw hemp plant with 25mg CBD per ml.

Lab Tested

Love Hemp CBD Plus Oil is rigorously tested and verified by a third-party lab for safety and quality assurance.

Full Traceability

Want to know exactly what's in your Love Hemp CBD Plus Oil? Simply scan the QR code on the back of pack and enter the batch number for a certificate of analysis.
CBD Oil FAQ
Ingredients

- Olive Oil

- Cannabinoid Rich Hemp Oil
How many drops of Love Hemp CBD Plus Oil should I take?

For new users, we recommend starting with16 drops (10mg CBD) or measure 0.4mlusing the graduated pipette then increase as required. Place under the tongue and hold for 1-2 minutes to maximise absorption before swallowing. Remember, CBD is a supplement so it can take up to 4 weeks of regular use to notice a significant change – the key is to remain consistent. Do not exceed 70mg CBD per day.
How long will a bottle of Love Hemp CBD Plus Oil last for?

Each 10ml bottle contains 250mg of mild strength CBD and is specially formulated to last at least 10 days or more depending on regular, suggested use.
What is the difference between Love Hemp CBD Plus Oil and your other CBD Oils?

CBD Plus is a cannabinoid rich formula produced using a traditional, cold-pressed extraction method with minimal processing which helps to preserve all of the compounds found in the raw hemp plant. Full spectrum by default, this results in a product that is as close to nature as possible, allowing users to experience the full power of the hemp plant and the proposed 'entourage effect'.

The 'entourage effect' refers to the synergistic interaction of all the compounds found in the hemp plant. CBD is just one of many naturally occurring cannabinoids but when paired with other cannabinoids and terpenes, a greater effect is achieved than any one compound in isolation.
Is Love Hemp CBD Plus Oil only available in one strength?

Yes, but do not be put off by the seemingly low strength. In fact, cold-pressed oils have a relatively high potency due to the full spectrum of compounds which work in synergy for greater therapeutic potential.
Is Love Hemp CBD Plus Oil THC Free?

No, CBD Plus is the only oil in our range that isn't THC free due to the natural production process. However, each bottle contains less than 1mg THC which is below the legal limit and will not get you 'high'.
What does Love Hemp CBD Plus Oil taste like?

Our CBD Plus Oil is blended with Extra Virgin Olive Oil and has a natural, earthy, mildly nutty flavour.
Can I use Love Hemp CBD Plus Oil alongside other CBD products?

Yes, our CBD Plus Oil can be used in conjunction with other Love Hemp CBD products for increased efficacy but the FSA recommends no more than 70mg CBD per day unless under medical direction.